There are various indicators that the festive season is nearing. Christmas songs begin to be pumped into the supermarket aisles and the John Lewis advert has become a regular presence on our TV screens. Another sure sign is when restaurants up and down the country launch their Christmas menus. Comptoir Libanais is no exception and Founder, Tony Kitous, has worked with his team of chefs to create the latest incarnation of their Christmas Feast (£24.95 per person) for the festival period. We headed out to Leeds Trinity to give it a try…
---
Mezze to Share
The Christmas Feast menu boasts a selection of four mezze dishes to share, all bringing something different to the table.
Aubergine with Tahina (Vegan) – Now I have to admit to not being aubergine's greatest cheerleader, but this dish may have just help change my mind. The smoky fried meaty slices of the vegetable, flavoured with tahina, garlic, sumac, fresh lemon and pomegranate seeds, were absolutely delicious. I might even put Tony Kitous' cook book, Feast from the Middle East, on my Santa List to discover his secret!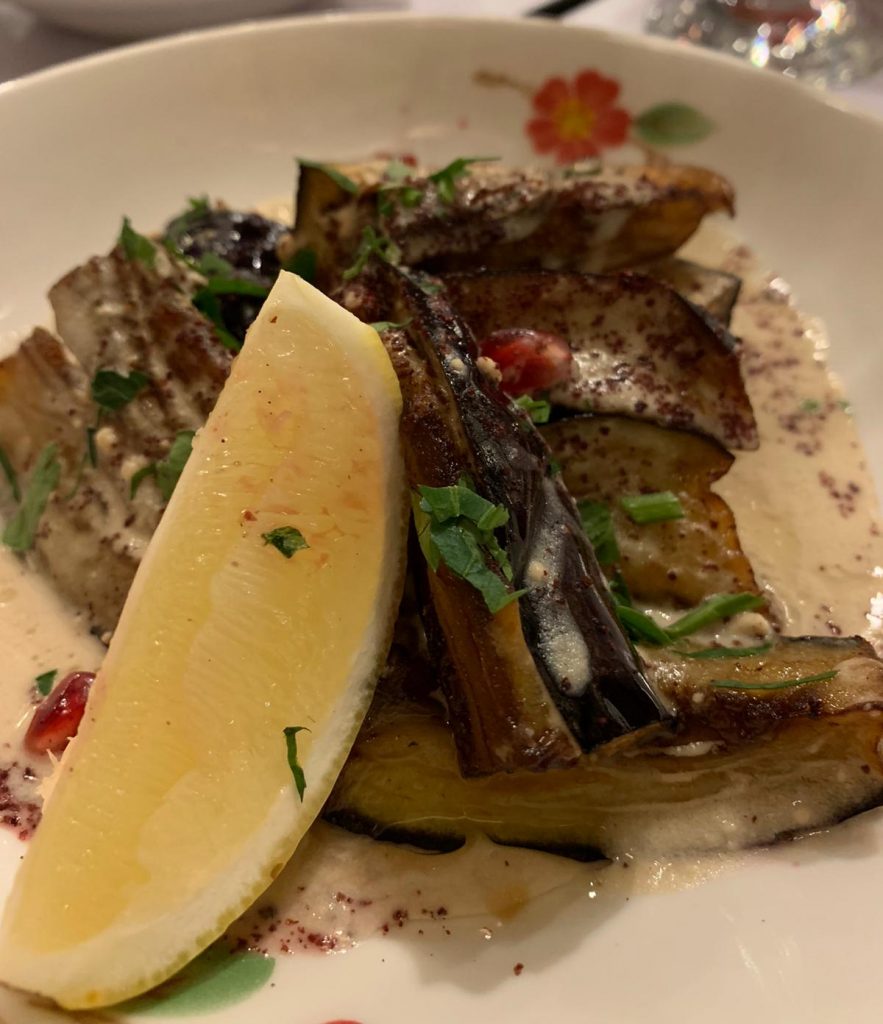 Harissa Spiced Chicken Hommos – While aubergine had its work cut out winning me over, this dish was starting out on a much firmer footing. It didn't disappoint either, with the silkily smooth chickpea puree, which Comptoir Libenais does so well, being literally topped off with a generous helping of chunky harissa chicken pieces, tahina, lemon juice and extra virgin olive oil. Almost a main dish in itself!
Vine Leaves (Vegan) – The third mezze offering (and the second vegan dish available) saw us presented with four fat vine leaves stuffed with rice, pine nuts, extra virgin olive oil and pomegranate seeds. Once again these tasty morsals were quickly dispatched.
Lamb Samboussek – Unfortunately these weren't available to review on our visit, but if they're anything like the Cheese Samboussek we were provided with as an alternative, they certainly won't let the side down.
---
Mains
For the main event we were given a choice of Harissa and Honey Baby Chicken, Lamb Kofta with rice and Spiced Tahina, Roasted Sea Bass and Aubergine and Feta Shakshuka (Vegetarian/ Vegan if requested).
After much deliberation, and influenced by the excellent chicken starter, we opted for the honey roasted baby chicken, which was juicily succulent and beautifully marinated with harissa. It came atop a thick bed of cubed spiced potatoes that soaked up the delicious flavours ably.
For our second mains option we chose the roasted sea bass fillet, which came accompanied with braised fennel that brought a lovely touch of aniseed to the ensemble that also comprised confit tomatoes, Kalamata olives, coriander, garlic dressing and fresh lemon. The zesty favours don't really scream 'Christmas!' but were unarguably well balanced. Definitely a dish that could be enjoyed any time of the year.
---
Desserts
Bookending a solid of evening of superbly prepared dishes, there was much more of a Christmassy feel to the dessert options with the likes of Christmas Date Pudding, Rose Mouhalabia, Chocolate Cheesecake and Orange & Almond Cake (Vegan) all available to tempt those with a sweet tooth.
We went for the light and airy Chocolate Cheesecake, which came with a layer of sultanas, pistachios and a bitter orange compote, the sharpness of which beautifully cut through the chocolate. Keeping up with the citrusy theme, the Orange & Almond Cake came served with orange & sultana marmalade and was just as appetising.
---
Our verdict:
Comptoir Libanais' latest addition to its offering might not be immediately associated with Christmas (you'll have to go elsewhere for your Brussel Sprouts or Pigs in Blankets fix), the 'feast' element is definitely justified. Accompanied by a bottle of the Clos St Alphonse Red (Vegan), which lent a fruity and spicy flavour to proceedings, this was a most excellent evening of food. What better way to escape the hordes of Christmas shoppers for an hour or two?
Available until 24 December, to sample the Christmas Feast yourself book a table by visiting: www.comptoirlibanais.com/locations/leeds/.